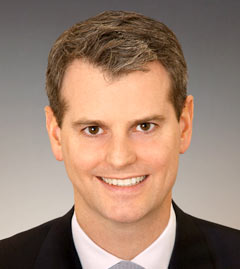 Education
Mr. Meyer earned his J.D. from Brooklyn Law School and his undergraduate degree in political science from Siena College.
Josh Meyer has national experience in the area of infrastructure and procurement law, and routinely advises clients with respect to special contract and procurement matters. Mr. Meyer has served as lead negotiator and special procurement and contract counsel for municipal clients throughout the United States in connection with the privatization of numerous new and existing public infrastructure assets. He has drafted and negotiated complex performance-based contracts with various national and international companies relating to the private design, construction and operation of water and wastewater systems, solid waste disposal facilities and energy-related projects. In addition, Mr. Meyer has provided legal, business, risk allocation and finance advice in structuring and developing procurement and contract documents, including operation and maintenance contracts, design-build contracts, design-build-operate contracts, guaranty agreements and requests for proposals. He has advised clients on all aspects of design and construction risk allocation, project financing, land acquisition and development, vendor procurement, contract negotiation, security for performance, environmental regulatory matters and labor issues.
Mr. Meyer previously represented Nassau County, NY in connection with the development and negotiation of a contract to privatize the operation, maintenance and management of the County's sewer system, which includes three major wastewater treatment plants, 53 sewage pump stations and approximately 3,000 miles of sewers. The sewer system is responsible for the collection, treatment and disposal of sewage in a large area of the County, and has a current customer base of approximately 1.0 million residents. In addition to his current work, Mr. Meyer recently represented Nassau County, NY in connection with the redevelopment of the Nassau Veterans Memorial Coliseum site consisting of a $229 million public-private partnership to transform the 43-year old Coliseum and plaza into an attractive, first-class destination for sports and family entertainment. His representation included the drafting of all procurement and evaluation documents, facilitating the request for qualifications and request for proposals procurement processes, and negotiating all contract documents, including simultaneously negotiating full leases with the two selected finalists.
Professional Associations & Memberships
New York Bar Association
American Bar Association
Westchester Bar Association
Design-Build Institute of America
Solid Waste Association of North America